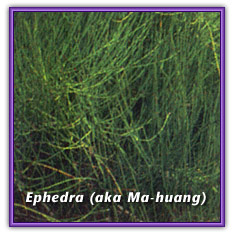 Source
The Chinese herb ma-huang, known in the West as ephedra, is the dried stem of three species of primitive shrubs in the ephedra family found in desert regions around the world. Three species are commonly used as source plants: E. sinica, E. intermedia, and E. equisetina, all native to the steppes of north and northwestern China. The nine species and two hybrids that are native to North American deserts do not contain the alkaloids associated with the Asian species.
Traditional Use
Ma-huang is first mentioned in Shen Nong Ben Cao Jing, which survives as a list of 365 herbs from the first century A.D. In traditional Chinese medicine (TCM) its functions are to induce sweat, soothe breath, and promote urination. It is prescribed for bad colds, fevers without sweat, pain in the joints, coughing, shortness of breath, and swelling of the ankles. Ephedra has been used for more than 2,000 years to treat bronchial asthma, colds and flu, chills, lack of perspiration, headache, nasal congestion, aching joints and bones, cough and wheezing, and edema.
Current Status
The basis of ephedra's medicinal use is its alkaloids ephedrine and pseudoephedrine, which stimulate the central nervous system and heart muscle, dilate the bronchial tubes, and elevate blood pressure. Both natural ephedrine and pseudoephedrine from ma-huang and synthetic forms of the alkaloids are sold commercially. Pseudoephedrine's effects are somewhat weaker than those of ephedrine. Ephedra also has diuretic and anti-inflammatory activity.
The alkaloids are used in over-the-counter bronchodilators for mild seasonal asthma or chronic asthma. They are also found in products to relieve sinusitis and nasal congestion.
Preparations
Ma-huang is available in crude form (dried stems) in the American market, and is formulated in teas, capsules, tablets, and other products. It is often inappropriately used in weight-loss products and stimulants. The alkaloids ephedrine and pseudoephedrine are ingredients in dozens of cold, allergy, and cough products.
Cautions
A discussion of the side effects of this herb or its alkaloids when abused could fill a small book. Some of the known effects include insomnia, motor disturbances, high blood pressure, glaucoma, impaired cerebral circulation, and urinary disturbances. Ephedrine-containing products should not be used by anyone who has hypertension, high blood pressure, heart disease, thyroid disease or diabetes, or who is taking a monoamine oxidase inhibitor.
Over-the-counter drugs containing ephedra alkaloids are required to carry a warning against exceeding the recommended dose (except under a physician's direction). Also, if symptoms are not relieved in an hour or worsen, discontinue use immediately and seek a physician's advice. Abuse of ephedra alkaloid products has led to more than a dozen reported deaths, often due to heart failure. It is best to seek the opinion of a physician before using ephedra products.
Symptoms
Asthma, mild
Nasal congestion
Action
Bronchodilator