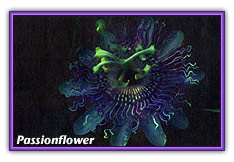 Source
Passionflower is the dried aboveground parts (herb) of a member of the largely tropical American passionflower family, found in fields from Virginia to southern Illinois and southeast Kansas, south to Florida and Texas.
Traditional Use
Passionflower was largely neglected until the mid-nineteenth century. It was introduced into medicine about 1840 by. L. Phares of Mississippi and by 1898 was in use by American physicians. Harvey Wickes Felter and John Uri Lloyd wrote in 1898, "Its force is exerted chiefly upon the nervous system, the remedy finding a wide application in spasmodic disorders and as a rest-producing agent. It proves specially useful in the insomnia of infants and old people. It gives sleep to those who are laboring under the effects of mental worry or from mental overwork."
Formerly approved as an over-the-counter sedative and sleep aid, it was not recognized as effective by the US Food and Drug Administration in a 1978 review of nighttime sleep aids.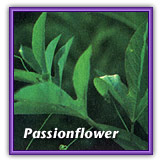 Current Status
Most research on passionflower has been done in animal studies related to its antispasmodic and sedative properties. Extracts of the herb inhibit fungi and bacteria. Studies indicate that the herb (or its extracts) relieves spasms, has a sedative effect, allays anxiety, and lowers blood pressure. In European herbal medicine, passionflower products are used for nervous tension, especially in sleep disturbances or anxiety arising from restlessness. Recent research on passionflower indicates that several chemical components-probably flavonoids-act together to cause these effects. Well-designed clinical research on passionflower alone is notably absent from the literature; a few studies have been done on passionflower in combination with other herbs.
Preparations
The dried herb is generally available and is made into tea, tinctures, fluild extracts, and in Europe, sedative chewing gums. Passionflower is used in European sedatives in combination with valerian and hawthorn. Passionflower and hawthorn combinations are also used to relieve spasms of the digestive system. For such products, the herb is standardized to contain not less than 0.8 percent total flavonoids to comply with the French, German, and Swiss pharmacopoeias.
Cautions
Passionflower contains minute amounts of harman alkaloids which can reduce the effects of antidepressants based on monoamine oxidase inhibitors. In Germany, passionflower preparations may contain no more than 0.01 percent of harman alkaloids. Otherwise, no side effects or contraindications are reported for the herb.
Symptoms
Anxiety
Insomnia