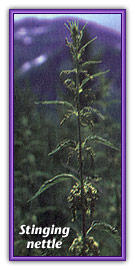 Source
Stinging nettle is a perennial member of the nettle family, native to both Europe and the United States. The root and leaf are used.
Traditional Use
In folk medicine, the dried herb and fresh plant juice have been used as diuretics, astringents and blood builders, and to treat anemia (due to their high iron content). The powdered leaves or fresh leaf juice have been applied to cuts to stop bleeding or taken in tea to reduce excessive menstrual flow, as well as to treat nosebleeds and hemorrhoids. Nettle tea has been used to stimulate blood circulation and as a spring tonic for chronic skin ailments. France's official bulletin on herbal medicines notes that it is traditionally used for the treatment of mild acne and eczema. It is also a folk treatment for arthritis.
Current Status
Recent studies suggest that the leaf tea aids coagulation and formation of hemoglobin in red blood cells. A freeze-dried nettle leaf product has shown slight activity in the treatment of allergies. Several studies indicate that the leaf extract depresses the central nervous system and inhibits bacteria and adrenaline. Stinging nettle's diuretic activity has been the subject of a number of German studies. Animals fed stinging nettle showed increased excretion of chlorides and urea. The juice has a distinctly diuretic effect in patients with heart disorders or chronic venous insufficiency. The herb's high potassium content and flavonoids may contribute to its diuretic action. In Germany, the herb is used for supportive treatment of rheumatic complaints and kidney infections.
Stinging nettle root is attracting new research interest. German health authorities allow root preparations of stinging nettle to be used for symptomatic relief of urinary difficulties associated with early stages of benign prostatic hyperplasia (BPH), although they don't decrease enlargement of the prostate. The root preparation increases urinary output and decreases the urge to urinate at night. Studies suggest that the root extract may inhibit interaction between a growth factor and its receptor in the prostate. Patients must consult a physician regularly for proper monitoring of the treatment.
Preparations
The dried leaf, used as tea, or capsules, tablets, and tinctures are available. Dried root products, often combined with saw palmetto, have begun to appear on the American market.
Cautions
Fresh nettle leaves sting! The burning sensation usually lasts for about an hour, but may persist for up to twelve hours in some individuals. Histamine, acetylcholine, 5-hydroxytryptamine, small amounts of formic acid, leukotrienes, and other unknown compounds act together to produce the sting. No side effects or contraindications are reported for nettle products. The primary condition for which the roots are used, BPH, can be diagnosed only by a physician.
Symptoms
Benign prostatic
hyperplasia (BPH)
Actions
Diuretic