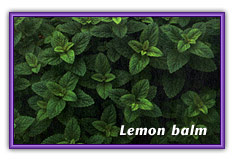 Source
Lemon balm is the leaf of a perennial herb in the mint family native to the Mediterranean region, western Asia, southwestern Siberia, and northern Africa. It is widely naturalized in North America and elsewhere.
Traditional Use
Lemon balm's history dates back at least 2,000 years. It has been used to reduce fevers, induce sweating, calm the digestive tract, treat colds, and relieve spasms related to cramps and headaches. In medieval Europe, the tea was valued for disorders of the nervous system. It has long been a popular folk remedy for insomnia. Lemon balm was official in the U. S. Pharmacopoeia from 1840 to 1890.
Current Status
Lemon balm has been shown to be sedative, to relieve spasms, and inhibit the growth of fungi and bacteria. The German government allows preparations of lemon balm to be labeled for difficulty in falling asleep due to nervous conditions and for spasms of the digestive tract.
Laboratory experiments have shown activity against viruses including mumps and herpes simplex. A lemon balm cream is sold in Germany for cold sores and conditions related to herpes simplex. In a clinical study of 115 patients with herpes, a cream containing 1 percent dried lemon balm extract was applied by the patients as needed five times daily for up to fourteen days until healing of herpes lesions was complete. In 96 percent of the patients, lesions were healed by day eight of the treatment, in 87 percent by day six, and in 60 percent by day four. Unassisted healing usually takes ten to fourteen days. A subsequent randomized, placebo-controlled, double-blind study compared the effect of the same cream with a placebo. Both physicians and patients judged the lemon balm cream superior to the placebo; it was found, however, that treatment must be started very early in the infection as accelerated healing was most pronounced in the first two days.
Preparations
The dried leaf is available for use as tea. The fresh leaves have a much stronger, more pleasant lemon flavor. Capsules and a cream containing a I percent extract are sold in the American market.
Cautions
None noted.
Symptoms
Digestive gas
Herpes sores
Insomnia