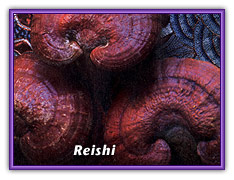 Source
Known as reishi in Japan or ling-zhi in China, this herb is the fruiting body of a mushroom. It is produced commercially in China, Japan, and the United States. In Japan it grows in the wild on plum trees, but most of the supply is cultivated. Related species such as artist's conk (G. applanatum) occur in North America, but they are not grown commercially nor have their medicinal properties been studied.
Traditional Use
Reishi has been a folk medicine in China for thousands of years. It is mentioned in the first class of herbs in Shen Nong Ben Cao Jing for calming, benefiting vital energy (qi), and even improving the complexion. Once available only to emperors, this important tonic was considered an "elixir of life". The Chinese name ling zhi means "spirit plant"; in traditional Chinese medicine (TCM) it was traditionally used to treat hepatitis, hypertension, arthritis, nervous conditions, insomnia, lung disorders, and as a general tonic to "lighten weight and increase longevity".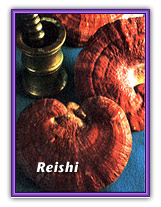 Current Status
Reishi's activity is not ascribed to one chemical, but to the collective action of many components, including polysaccharides (which have immunostimulant activity and help to enhance protein synthesis), a heart-toning alkaloid, as well as triterpene acids, which protect the liver, reduce hypertension, and inhibit cholesterol synthesis. Pharmacological studies have confirmed that reishi is antiallergenic, anti-inflammatory, antiviral, antioxidant, immunostimulant, and expectorant, and that it suppresses coughs and increases coronary blood flow. In the past two decades, Asian clinical studies have shown that reishi is effective in treating hepatitis, lowering cholesterol, and relieving bronchitis and asthma. It is also effective in relieving altitude sickness, as a calmative in anxiety and hypertension, and for reducing blood pressure. Reishi preparations are widely used in China and Japan and are increasingly well-known in the West.
Preparations
The dried mushrooms are available in powdered form, capsules, tinctures, tablets, and extracts in the United States. Some products are available in standardized form.
Cautions
Experimental studies have shown toxicity is very low. Rare side effects include dry throat, nosebleed, and upset stomach after long-term use. Rare skin rashes have also been reported as well as an allergic reaction in one patient who received an injectable form of the drug in China.
Symtoms
Anxiety
Actions
Adaptogen (tonic)
Immunostimulant