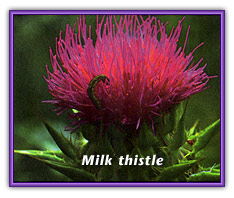 Source
Milk thistle is a member of the aster family found throughout Europe. Introduced by early colonists, it is naturalized in eastern North America and common in California. The seeds are used.
Traditional Use
According to early Greek references, milk thistle seeds have been used to treat liver disorders for over 2,000 years. The Roman writer Pliny the Elder (A.D. 23-79), wrote that the juice of the plant mixed with honey was excellent for "carrying off bile".
Milk thistle is featured in Hildegard of Bingen's Physica, the first herbal by a woman, written about 1150 and published in 1533, and other early European herbals mention its use for liver disease. The sixteenth-century English herbalist John Gerard considered it "the best remedy that grows against all melancholy [liver] diseases," and the eighteenth-century German physician Rademacher used the seed for chronic and acute liver diseases. During the next two centuries, its use declined, but by the 1930s, interest in clinical use of milk thistle preparations for liver disease was growing again.
Current Status
More than 300 studies conducted since the late 1960s provide an experimental basis for the effectiveness and safety of silymarin, the main chemical complex of milk thistle seeds, in the treatment of liver disease. Standardized seed preparations have been shown to alter the cell structure of the outer liver membrane which prevents toxic chemicals from entering and stimulates the liver's own capacity to generate new cells. Silymarin also scavenges harmful oxygen radicals in the liver, further protecting it.
German health authorities allow milk thistle preparations to be used in supportive treatment of chronic inflammatory liver disorders such as hepatitis, cirrhosis, and fatty infiltration caused by alcohol or other toxins. In addition to its well-documented curative action, silymarin can help prevent liver damage if it is taken before exposure to toxins.
Preparations
Whole and powdered seeds are available in the American market in capsules, tablets, and tinctures. To ensure predictable effects, however, preparations must be standardized to 70 to 80 percent silymarin (the active constituent).
Cautions
There are no known serious side effects, contraindications, or drug interactions related to the use of milk thistle preparations. Loose stools may occur during the first few days of use. Ask alway consult your physician/doctor prior to using any herbal remedies.
Symptoms
Liver disorders